Illuminate Your Space: Top Picks for Outdoor Holiday Lights
Illuminate Your Space: Top Picks for Outdoor Holiday Lights
Illuminate Your Space: Top Picks for Outdoor Holiday Lights
The holiday season is upon us, and it's time to bring some festive magic to your home. Outdoor holiday lights not only illuminate your space but also add a touch of enchantment to the surroundings. Amid the holiday cheer, the art of illumination has transcended, offering a splendid array of options and cutting-edge technology for transforming your abode into a radiant marvel. In this comprehensive guide, we'll explore the best ways to transform your home into a winter wonderland with the perfect outdoor holiday lights.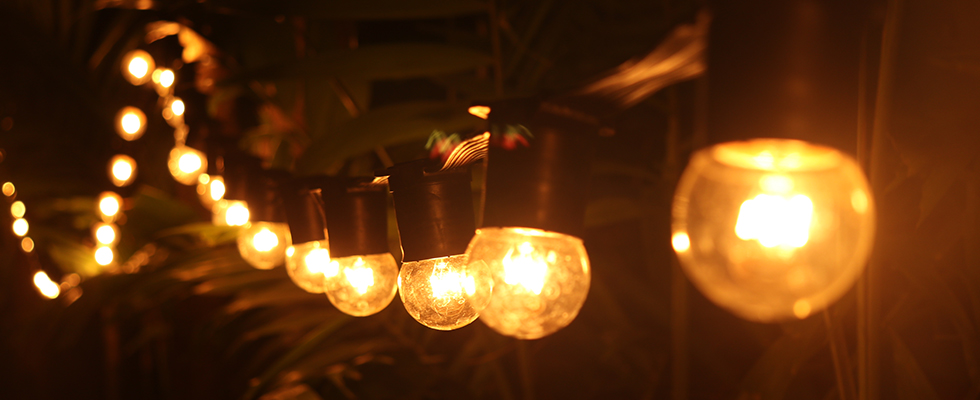 I. TOP 5 Best Outdoor Holiday Lights
Illuminate your holidays with our top picks for the best outdoor holiday lights, adding brilliance and sophistication to your festive decor. Our carefully curated selection ensures your celebrations are not only brighter but smarter too.
These vibrant lights offer dynamic animations, boasting an extensive palette of 16 million colors, from warm whites to cool hues. Enjoy animated color gradients and scenes that bring your outdoor space to life.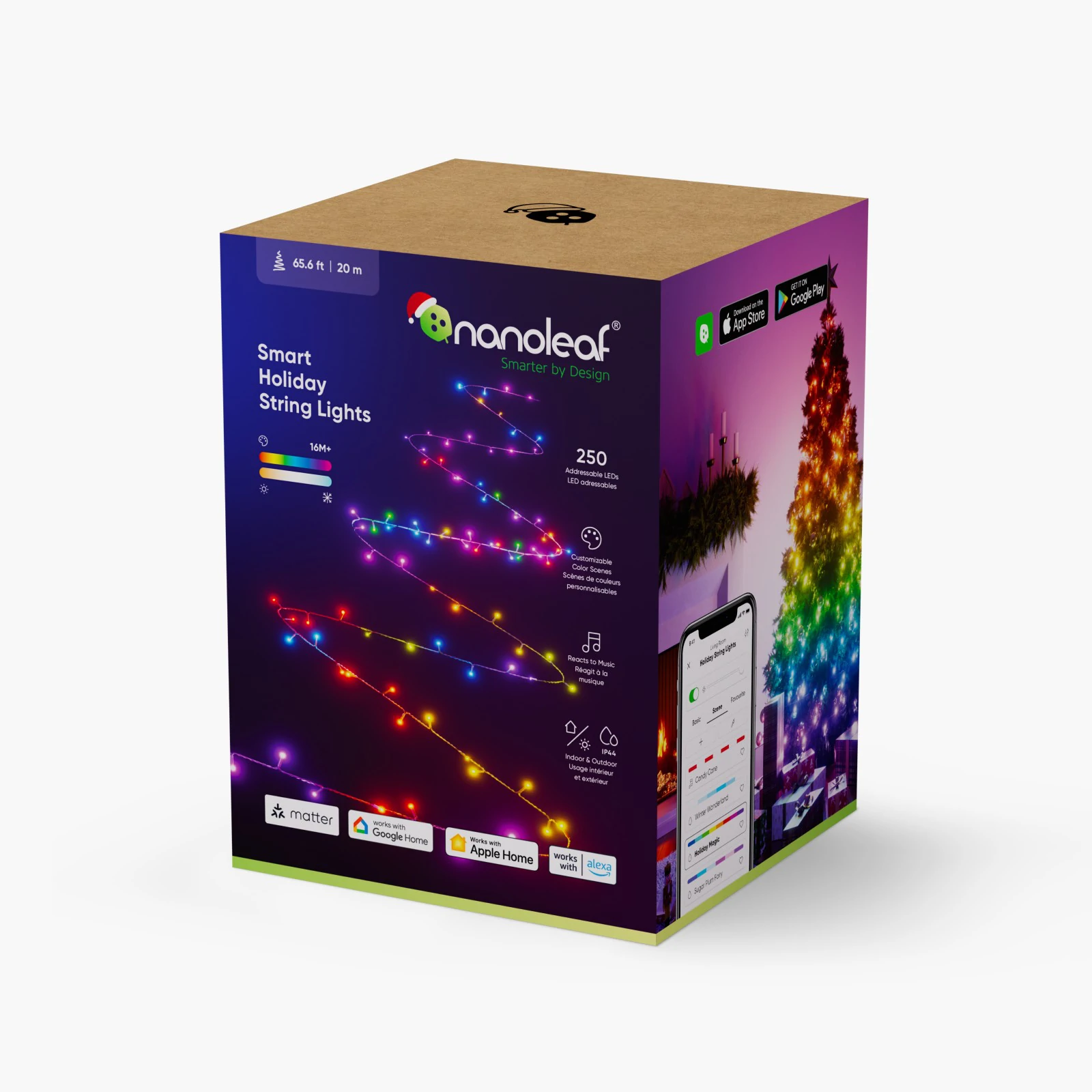 These designed to transform any space into a festive haven. With multiple light effects for every moment, these lights allow you to create the perfect atmosphere. Explore 99+ dynamic scene modes to tailor your holiday lighting experience.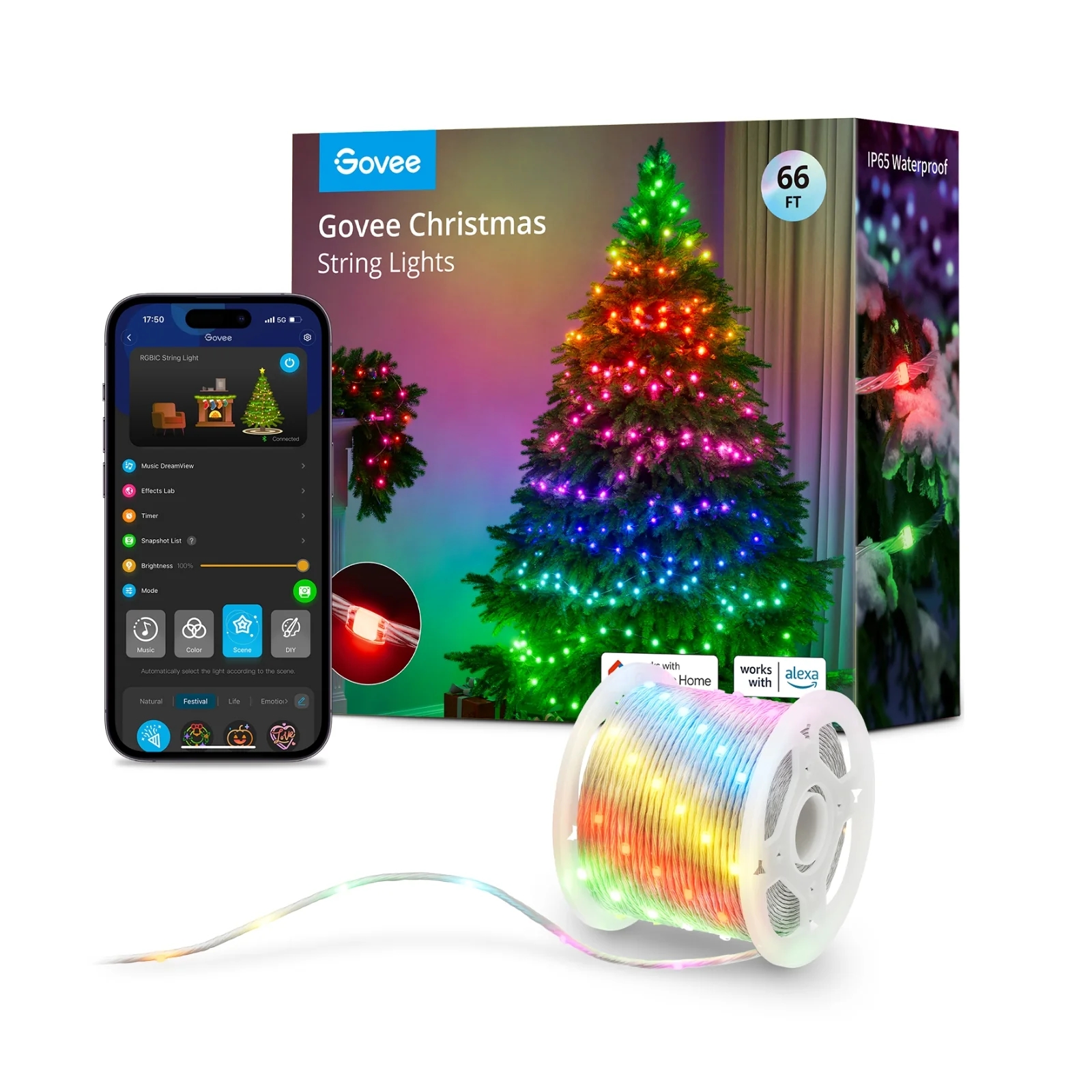 It is a perfect blend of creativity and functionality. Immerse yourself in vivid colors, controlled by your voice, with a design that's both artistic and durable. Sync the lights with your music for a dynamic audio-visual experience. Conveniently control the lighting through a user-friendly app or with smart voice commands.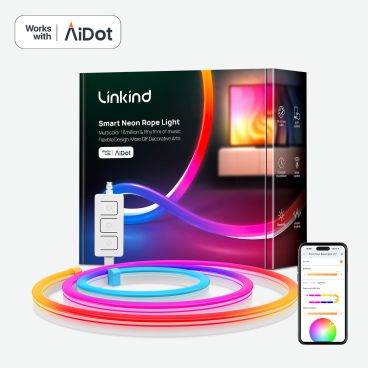 Linkind Smart Neon Rope Light
Vivid Colors: Linkind neon rope lights offer dynamic, vivid colors for a stunning display.

Voice-Controlled: Enjoy hands-free control with voice commands through Alexa, Google Assistant, and AiDot.

Creative Design: Flexibly shape and design your space with 10ft of neon lights.

Music Sync: Elevate entertainment with real-time audio-reactive effects.

Versatile & Durable: Use these water-resistant neon lights for holidays and various applications with a wide range of colors and modes.
Allowing you to craft a personalized pendant or table lamp. Combine it with the STRÅLA cord set or base to bring your unique vision to life. This lampshade emanates a warm, cozy glow, enveloping your home in the festive spirit. Note that the lamp base and cord set are sold separately, and the light bulb, specifically the IKEA-recommended LED bulb E12 250 lumen globe opal white, is also sold separately.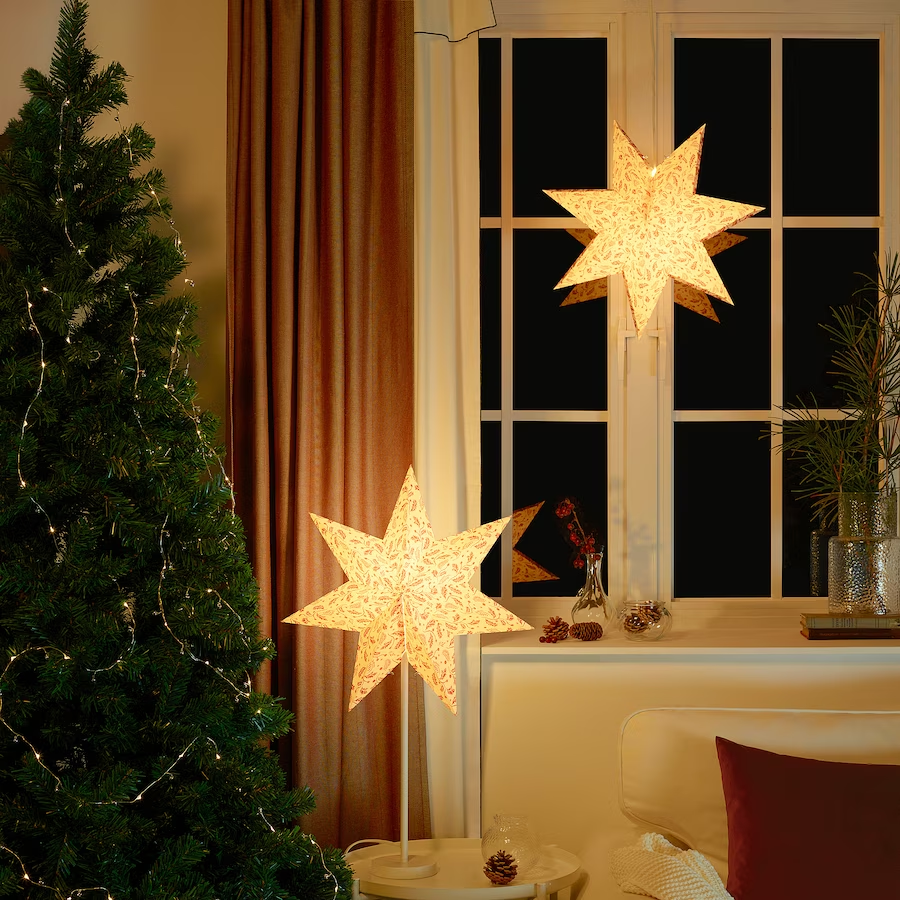 Experience exceptional color quality, enhanced durability, and a faster response time. These lights are built to last for at least 10 years, ensuring that your festive decorations remain vibrant and captivating throughout the holiday season. Brighten up your space with the reliability and brilliance of GE LED technology.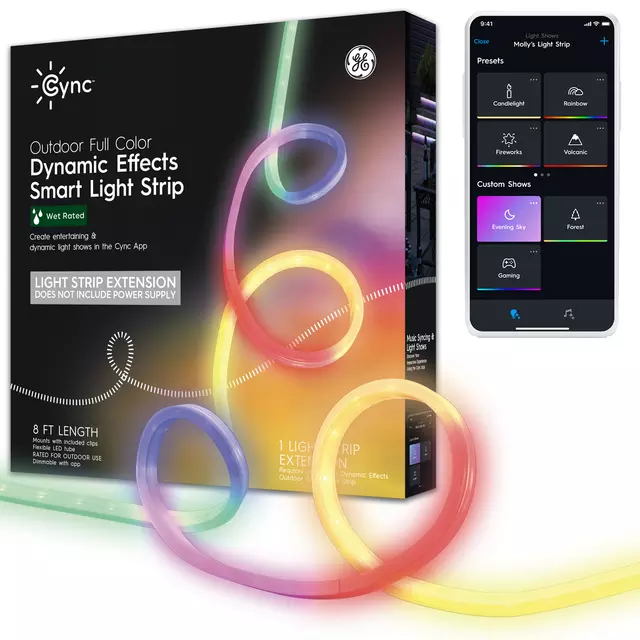 Introduction to Holiday Lighting
When the holiday season descends upon us, the exterior illumination of our homes and neighborhoods marks the start of jubilant celebrations. While this festive tradition has deep-rooted origins, today's holiday lighting has evolved significantly, blending tradition with technological advancements.
Understanding the Significance of Outdoor Holiday Lighting
Holiday lighting serves as a vibrant symbol of the festive season, extending far beyond mere illumination. Its significance lies in the emotional connection it fosters within families and communities. These twinkling lights spark a sense of joy, togetherness, and an ambiance of giving. They aren't merely a means to brighten your home; they're an enduring tradition, infusing the air with a contagious cheer that uplifts spirits and creates an enchanting atmosphere. The shared endeavor of decorating homes or streets unites neighbors, creating a beautiful canvas of light that spreads warmth and celebrates the essence of the holiday season.
Holiday Lighting Installation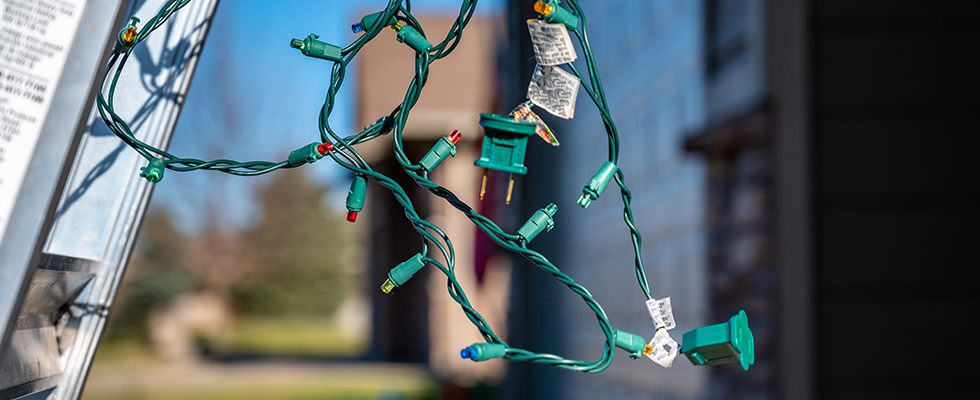 Holiday Lights Near Me: Finding Local Festive Light Displays
In the quest for 'holiday lights near me', you can uncover various spectacular light displays and local events that add to the cheer of the festive season. Explore renowned events like "Winter Wonderland" at the Morton Arboretum in Lisle, Illinois, a garden festival featuring more than 1 million lights (scheduled from November 20, 2023, to January 2, 2024). Another notable event is the "ZooLights" at the Lincoln Park Zoo in Chicago, Illinois, offering a mesmerizing experience (taking place from November 24, 2023, to January 1, 2024). Also, don't miss the "Trail of Lights" at Zilker Park in Austin, Texas, where dazzling lights and unique installations mark the holiday spirit (expected to run from December 10 to 23, 2023). These events provide an opportunity for families, friends, or couples to immerse themselves in the joyous ambiance of the holidays.(Please note that the mentioned dates are based on previous schedules and may vary in the current year. It's recommended to verify the event times and dates on the respective event websites for the most accurate information.)
Exploring Holiday Lighting Installation Services
Professional holiday lighting installation services are the go-to solution for homeowners seeking a hassle-free approach to illuminate their homes during the festive season. Companies such as "Bright Lights Holiday Lighting" and "Holiday Bright Lights" are recognized for their comprehensive service packages. They offer customized designs, proficient installation, and post-holiday removal, streamlining the entire process. Additionally, "We Hang Christmas Lights" specializes in tailored lighting plans to harmonize with the architectural aesthetics and landscaping of your home. These professional services provide a convenient way to achieve a stunning holiday display without the stress of DIY installation.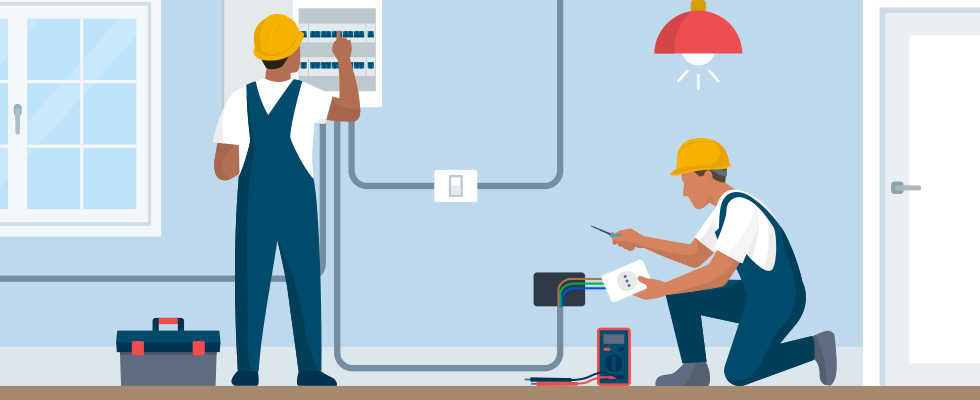 Festive Lighting Events
Holiday Festival of Lights: Popular Celebrations
Holiday festivals of lights are an embodiment of the seasonal spirit. Some of the most cherished celebrations take place in locations such as Longwood Gardens, where visitors can revel in a stunning array of beautifully adorned displays. As an example, the Longwood Gardens Festival of Lights opens from November 18th through January 2nd, creating an enchanting atmosphere through various light shows and musical performances.
Embracing Community-Based Festive Light Shows
Community-based light shows create a sense of togetherness. Local neighborhoods come alive with festivity during events such as the North Attleboro Lights Celebration. Communities take part in a friendly competition for the most creative light displays, turning their streets into radiant, dazzling wonderlands throughout December.
Christmas Lights Events
Christmas light events are a testament to the joyous holiday spirit. Annual parades, like the Las Vegas Great Santa Run, kick off the season with an electrifying display of lights, engaging locals and tourists alike. This specific event will be held on December 1st, uniting the city in the shared joy of the holidays. Additionally, various illuminating displays in town centers and gardens, like the Atlanta Botanical Garden Lights, offer stunning visuals and entertainment throughout December.
Best Holiday Lights for Your Home
Linkind Holiday Lights: A Modern Smart Lighting Solution
Linkind Holiday Lights introduce a range of advanced, tech-infused lighting solutions that redefine the holiday lighting experience. The brand offers a collection of smart and energy-efficient lighting products designed to elevate outdoor displays and create an enchanting ambiance for the festive season.
Smart Control and Connectivity: Linkind Holiday Lights are integrated with smart technology, enabling users to control the lights remotely via a dedicated mobile app. With this app, users can schedule on/off times, adjust colors and brightness, and choose from various lighting effects, offering unparalleled convenience and customization.

Energy-Efficient Design: These lights utilize energy-efficient LED technology, significantly reducing power consumption while delivering vibrant and eye-catching displays. The eco-friendly design ensures longevity, saving on energy costs and reducing environmental impact.

Weather-Resistant Construction: Linkind products are built to withstand various weather conditions. With durable and robust materials, these lights are designed to endure rain, snow, and extreme temperatures, ensuring reliability throughout the holiday season.

Versatile Styles and Options: Linkind offers an array of lighting styles, including string lights, rope lights, net lights, and more. The products come in different colors, lengths, and shapes to suit diverse decorating needs.
Related Linkind Products:
Linkind Smart LED Bulbs offering an intelligent lighting solution for diverse home settings. Users can conveniently control the lighting in different areas of their home using the AiDot app, customizing color options, brightness levels, and lighting schedules. These smart bulbs are compatible with voice assistants and can be seamlessly integrated into home automation setups, allowing for a personalized and energy-efficient lighting experience.
Linkind Solar Outdoor Lights Smart, energy-efficient lighting options for outdoor spaces. They harness solar power to illuminate gardens, pathways, or other outdoor areas. These lights operate on clean, renewable energy, minimizing electricity costs and environmental impact. Their weather-resistant design ensures durability in various outdoor conditions, providing reliable and sustainable lighting throughout the year.
Linkind Mood Lighting The Linkind Mood Lighting collection covers a wide array of indoor and outdoor lighting options that contribute to creating ambient atmospheres. It includes products like TV Strip Lights and Smart Neon Lights designed to enhance interior spaces with personalized mood lighting. Linkind's Matter products offer connectivity and interoperability between smart home devices, enabling a cohesive and user-friendly experience within the home environment.
Linkind Solar Outdoor Spot Lights Linkind Solar Outdoor Spot Lights deliver focused, bright illumination to highlight specific areas outdoors. These lights are ideal for accentuating landscaping features, pathways, or other points of interest in the yard. They are powered by solar energy, ensuring eco-friendly and cost-effective lighting solutions for outdoor spaces.
The Linkind product line encompasses a diverse range of smart and energy-efficient lighting solutions, catering to various lighting needs both indoors and outdoors, while prioritizing sustainability and user convenience.
Maximizing Safety & Aesthetics
Safety Measures in Holiday Lighting
When installing outdoor holiday lights, safety must be a foremost consideration. Essential safety measures involve using outdoor-rated lights, ensuring a stable power source, avoiding overloading outlets, and using waterproof extension cords and GFCI outlets to prevent electrical hazards. Additionally, securing lights properly to avoid tripping hazards and keeping them away from flammable materials are important safety practices. For example, when setting up lights on a Christmas tree, ensure the tree is well-watered to avoid drying out and becoming a fire hazard. Regularly inspect the lights for damage, and replace any damaged strands promptly to ensure continued safety.
Balancing Safety with Aesthetics
Finding the equilibrium between safety and aesthetic appeal is vital for a delightful holiday lighting display. To achieve this, consider using LED lights that emit less heat and are energy-efficient, minimizing fire risks and saving on electricity bills. Opt for color schemes that enhance the holiday spirit without being overbearing, and be mindful of not obstructing walkways or creating potentially dangerous arrangements. For instance, using net lights or rope lights in bushes rather than string lights can prevent tangling and promote safety.
How to judge whether your Holiday Lights Are Safe or Not
Evaluating the safety of holiday lights is crucial. Regular inspections involve checking for frayed wires, exposed or broken bulbs, and signs of overheating. Also, look for potential signs of electrical malfunctions, such as flickering or dimming lights. The usage of smart plug systems can offer additional safety benefits. For example, using smart plugs with built-in surge protection can help guard against power surges and further protect connected devices. Ultimately, knowing when to retire and replace older lighting strands is an important aspect of ensuring safety.
Environment-Friendly Lighting Options
Energy-Efficient Lighting Choices
Sustainability in holiday lighting practices involves responsible energy use and recycling. Start by using timers or smart plugs to ensure your lights are only on when needed, reducing energy consumption. When disposing of old or non-functional lights, recycle them to prevent electronic waste. It's also eco-friendly to choose locally-sourced and eco-conscious products. Many companies now manufacture holiday lights with sustainable materials and packaging, promoting an eco-friendly approach to festive decoration.
Sustainable Practices in Holiday Lighting
Sustainability in holiday lighting practices involves responsible energy use and recycling. Start by using timers or smart plugs to ensure your lights are only on when needed, reducing energy consumption. When disposing of old or non-functional lights, recycle them to prevent electronic waste. It's also eco-friendly to choose locally-sourced and eco-conscious products. Many companies now manufacture holiday lights with sustainable materials and packaging, promoting an eco-friendly approach to festive decoration.
Solar Lighting Holiday Lights Products
Solar-powered holiday lights are an excellent eco-friendly choice. They harness energy from the sun during the day and illuminate your home at night. These lights often include options such as solar string lights, solar pathway lights, and solar garden stakes. Advantages of using solar-powered lights include lower energy costs, easy installation (no need for wiring), and environmental benefits as they reduce electricity usage. Some popular solar holiday light products on the market include solar string lights that come in various colors and styles and solar-powered garden stakes with decorative designs to enhance your outdoor decor. Solar lights can be positioned in sunny areas around your home to ensure efficient charging and illumination during the holiday season.
Exploring Innovative Lighting Technology
Advancements in Holiday Lighting Technology
The world of holiday lighting has evolved significantly, offering innovative technologies that bring magic to your holiday displays. App-controlled lights are becoming increasingly popular. With just a tap on your smartphone, you can change colors, set sequences, and control brightness. Moreover, dynamic displays are a new trend, allowing lights to sync with music or change patterns, creating a captivating show. These technological advancements make holiday lighting more interactive and engaging, giving you the ability to customize displays to suit various occasions and moods.
Incorporating Smart Lighting into holiday Decor
Smart lighting technology extends beyond everyday use; it's a game-changer in holiday decor. Through smart lighting systems, you can control and customize your holiday displays effortlessly. Whether it's adjusting color schemes to match different festive themes or scheduling when your lights turn on and off, smart lighting offers versatility and convenience. Integrating smart lighting into your holiday decor not only enhances the visual appeal but also simplifies managing your displays. It adds an extra layer of interactivity, allowing you to create dazzling effects and ambiance with minimal effort.
Planning & Designing Your Display
Elevating Indoor Spaces
The integration of holiday lights indoors can dramatically transform the ambiance of your living spaces. By incorporating various lighting elements strategically, you can infuse warmth, charm, and a festive aura into your home. Whether it's draping string lights around your mantelpiece or adorning indoor spaces with softly illuminated LED figurines, holiday lights offer an inviting and cozy environment, perfect for celebrating the season. This method creates a captivating atmosphere, evoking the enchanting spirit of the holidays.
Utilizing Holiday Lights Indoors
It is a great way to create a festive and cozy atmosphere. When well-placed, these lights infuse warmth and charm into your interior spaces. Consider incorporating string lights around the windows, on stair banisters, or even around door frames to add a magical touch to the overall decor. Furthermore, LED figurines, illuminated centerpieces, or softly-lit holiday-themed decorations contribute to an inviting and cheerful environment, making your home a delightful space for seasonal celebrations.
Indoor Lighting for Festive Ambiance
The use of indoor lighting during the festive season not only illuminates your home but also sets the stage for a warm and welcoming ambiance. LED string lights placed creatively around the interiors, twinkling with festive cheer, create a cozy and enchanting environment. Adorning various sections of your home with softly glowing LED figurines and lighted centerpieces enriches the indoor spaces, imparting a cheerful and inviting feel to the overall decor. This lighting arrangement enhances the festive spirit, making your home the perfect haven for celebrations.
The Magic of Timers and Controls
Significance of Timers in Holiday Lighting
Timers play a pivotal role in holiday lighting setups by automating the on-off cycles of your festive displays. Not only do they offer convenience, but they also contribute to energy efficiency. Timers ensure that your lights illuminate at specific times, enhancing safety and creating an enchanting atmosphere without requiring manual intervention. By scheduling the lighting to turn on at dusk and automatically switch off late at night, timers contribute to a hassle-free and efficient lighting operation.
Smart Controls for Festive Lighting Displays
Smart controls have revolutionized the way we manage our holiday lighting displays. These sophisticated systems offer increased functionality and ease of operation. With smart controls, users gain the ability to regulate lighting setups through intuitive applications, allowing for customizable settings, color adjustments, and pattern changes. These smart solutions permit users to effortlessly create dynamic and captivating lighting displays, elevating the festive ambiance. From changing colors to altering brightness levels, the controls offer an interactive and convenient method to manage and personalize your holiday lighting.
Seasonal Lighting Aftercare
Post-Festivity Clean-Up and Storage
After the holiday season, it's essential to efficiently clean up and store your festive lighting to ensure they remain in excellent condition for the next year. Begin by safely removing the lights and inspecting them for any damage. Untangle and organize the lights, making any necessary repairs or replacements. Dust off any debris and ensure the wires and bulbs are in good shape. Once your lights are clean, store them in a cool, dry place to prevent damage from moisture or extreme temperatures. Using dedicated storage containers or reels designed for holiday lights can help maintain their longevity.
Ensuring Longevity and Reusability
Ensuring the longevity and reusability of your holiday lights is a cost-effective and eco-friendly approach. Proper maintenance, storage, and handling of your lights are key to extending their lifespan. Regularly inspect your lights for any signs of wear and tear and address issues promptly. Additionally, choosing high-quality, durable lights from reputable brands can contribute to their longevity. By taking these steps, you can enjoy your festive lights for many holiday seasons to come, reducing both costs and environmental impact.
Conclusion
As the holiday season arrives, the art of outdoor lighting goes beyond simple illumination, transforming your home into a radiant marvel. Holiday lighting has evolved, embracing technology and diverse lighting options to offer a range of displays for homeowners to curate their perfect winter wonderland.
From string lights to projection lighting, various options cater to different preferences, creating a vibrant and captivating atmosphere. The festivities extend from individual homes to community-based light shows, popular celebrations, and Christmas light events, all sharing the contagious cheer of the season.
Safety measures, advanced technology, and considerations for neighborhood relations contribute to harmonious and enchanting lighting displays, while the aftercare ensures longevity and reusability for future seasons.
FAQs: Common Queries and Their Solutions
1. How can I ensure safety with outdoor holiday lights?
Prioritize safety by using outdoor-rated lights, securing lights properly, and avoiding overloading electrical circuits. Regularly inspect lights for damage and replace worn-out strands promptly.
2. What are the latest advancements in festive lighting technology?
The latest technology includes app-controlled lights, dynamic displays, and smart lighting solutions. They offer easy customization, interactive displays, and innovative features.
3. How can I create a festive indoor ambiance with holiday lights?
Utilize string lights, LED figurines, and other themed decorations indoors to infuse warmth and charm into your home. Linkind Smart TV Strip Lights and Smart Neon Lights provide mood-enhancing options.
4. What is the significance of timers and smart controls for holiday lighting?
Timers automate lighting schedules for energy efficiency, while smart controls provide interactive and customizable features for captivating displays.
5.
How should I store holiday lights after the festive season?
Safely remove, clean, and organize the lights before storing them in a cool, dry place to ensure longevity. Using dedicated storage containers designed for holiday lights is beneficial.